We offer a wide variety of IT Solutions so that our clients can choose the one that best fit their needs. Our experience is wide and diverse. Our staff is willing to work in partnership with our clients and commit to your successful business.
As IT Solutions in Dubai provides a wide range of support solutions to help your business reach its desired goals and objectives. We are experienced in many areas and offer paramount support in terms of technical knowledge, providing first-class business solutions, and also providing a managed 24/7 service. We offer cross-functional support to many businesses, with our services including email management, network installation, disaster recovery, upgrades & migrations, server & network management, remote working, data protection, and security.
IP Telephony Solutions in Dubai, UAE
IP Telephony is your network backbone—serving all employees whether they are within your corporate walls, at remote locations, or on mobile.
By integrating voice traffic into our network, organizations realize cost savings on their telecommunications service charges and reduce costs typically associated with deploying or relocating employee phone systems. In addition, IP telephony ultimately results in a more effective way to communicate by integrating with existing information technology systems such as e‑mail or IM. The integration with other applications can provide a seamless communications experience.
Auxkey IT solutions is one of the IP telephony solutions providers in Dubai, UAE, and one of the best could telephony companies offering a complete range of on-premises, cloud, and hybrid IP telephony solutions from industry-leading manufacturers such as Avaya, Cisco, Yealink, and Grandstream, etc.
Features of IP Telephones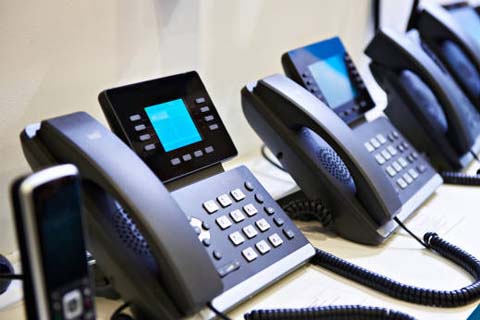 Network Solutions in Dubai, UAE
Whether you are redesigning your network or building a new IT infrastructure, Auxkey IT solutions experts employ advanced routing and switching technologies to ensure the efficiency of your network infrastructure. Streamlined network traffic connections support easier management as well as the critical high availability, speed, performance, and scalability of your network infrastructure.
We offer enterprise-level data network solutions and products from Cisco, HP, D-link, TP-Link, SonicWall, and Fortinet who were the market leader for a reason, including innovative capabilities like Smart Ports, EnergyWise, and StackWise. We cover all the networking areas including Switching, Firewalls, Servers, Storage, Telephony, and Structured Cabling.
Office Wireless Networks in Dubai, UAE
We can customize your office wireless network based on the number of users, types of devices, and physical size of the buildings to ensure the most cost-effective wireless solution for your office.
Auxkey IT solutions can provide you with a well-planned and scalable office wireless network that gives you, your employees, and their devices always-on access that's flexible, inexpensive, easy to maintain, and no signal dropouts or delays.
Deliver Internet Access
Inter-building LAN extension
Wireless LAN / WAN / MAN
Increase network capacity and reliability
Add redundancy to critical communication links
Remote video surveillance monitoring, video conferencing
Multi-location voice-over-IP (VoIP)
Connect remote buildings/networks that are miles apart
Data Storage Solution in Dubai, UAE
The most important aspect of business success is data storage. Whether companies have to store employee records, financial details, assets, company expansion plans, customer records, or everything about the company, it is imperative that you settle for a better possible data storage solution. It would be unfortunate for a company in this age to be grounded just because data is lost, damaged, hacked, or compromised and there is no way to recover it. Data integrity and security are very serious for many companies that invest a fortune to make sure that their information is safe and secure. If you are looking for one of the most reliable, secure, and reasonably priced data storage solutions on the market.
Which Backup Solution is Best for You?
There are three basic types of backup: full, copy, incremental, and differential.
Full backup provides you with an exact copy of your data which is also accessible anytime and it is useful for users.
The other two basic backup types, differential and incremental, who work from home or who want to backup a computer used in a business. These types of data backups are typically done several times a week or day for maximum protection against data loss.
Server Solutions in Dubai, UAE
Auxkey IT Solutions has been providing professional Server Solutions for businesses in and around Dubai, Sharjah, Abu Dhabi, Ras Al-Khaimah, Ajman, Fujairah, and Umm Al-Quwain. We are ready to give our clients enterprise-level services and solutions at prices that work for small businesses. Time and experience have helped us develop best practices for serving our clients and workflow procedures around a proactive philosophy designed to keep your focus on your business.
As a trusted server management provider you get to focus on what you do best, running and growing your business. No need to worry about staying current with the latest trends in technology, you don't need to keep up on the latest security issues.
Our Server management services include:
Remote problem & incident management.
Operating System upgrades & version control.
Ensuring data consistency across master server, cluster and slaves.
Optimize disk usage & processor usage.
Security and bug patch notification for the operating system.
Performance monitoring of Internet-based infrastructure including hardware, software, and OS.
Are You Looking for the Best IT Support in UAE?
Contact us now for a smooth and trouble-less experience.  If it seems that your organization needs IT support and other IT services. We are very much happy to assist in designing and implementing an awesome support plan for your organization.