A server / NAS is a device or system that provides resources, data, services, or programs to other computers or users, known as clients, over a network.
Server Solutions in Dubai, UAE
Auxkey IT solutions has providing professional Server Solutions for businesses in and around Dubai, Sharjah, Abu Dhabi, Ras al-Khaimah, Ajman, Fujairah, and Umm al-Quwain. We strive to give our clients Enterprise-level services and solutions at prices that work for small or large businesses. Experience and time have helped us develop best practices and workflow procedures around a proactive philosophy designed to keep your focus on your business.
Sooner or later, your small or large business will need more space for data storage. Information in the form of e-mails, documents, presentations, databases, graphics, audio files, and spreadsheets is essential for most companies, and the applications that run and protect your business require a lot of disk space.
Storing information and managing its storage and application is critical to a company's behind-the-scenes success. Fortunately, there are many options available to small or large businesses for both the actual storage and the location of that storage. The best server solution is a combination of different storage options.
By finding a trusted server management provider you get to focus on what you do best, running and growing your firm. You don't have to worry about staying current with the latest trends in technology, you don't need to keep up on the latest security issues and technology, and you get the luxury of time.
Some of the key benefits of servers: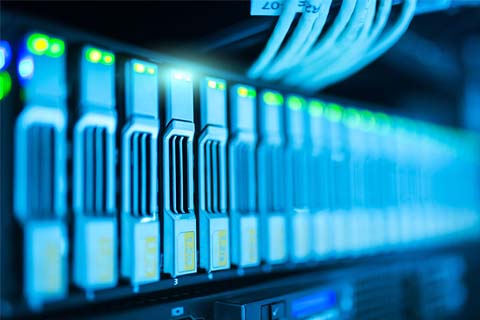 Server Storage Solutions in Dubai, UAE
Auxkey IT solutions provide the most efficient data storage solutions for businesses. hence, it also helps you build and manage a dynamic & optimized storage solutions infrastructure that supports your business operations using our top-quality servers and storage services with the best storage cabinets in Dubai and the region.
Auxkey IT solutions delivers superior servers like HP and Dell and the best data storage devices that can reliably support any workload. Our commitment is focused on innovation allowing our clients to do more with less. We bring it all together through our services, support, consulting, and delivering a world-class server experience to your businesses. We have experience in the installation of rack servers, tower servers, and blade servers. 
NAS Storage in Dubai, UAE
Apart from these hardware (NAS) choices, we'll be happy enough to install network attached storage (NAS) hardware even from a preferred vendor of the client's choice. Such attached devices can easily be used if you are not satisfied with the storage capacity of your current network and want the ability to store higher file volume on your network.
Auxkey IT solutions provide several solutions along with NAS installation like server backup so that in case any of your data from the server is removed because of a virus or other technical glitch, you would always know that your data is secure and safe. Apart from providing centralized storage space to all the connected clients of a network, Network storage solutions can also come in handy for several other tasks. They can serve as cheap storage for load-balancing services like web servers, mail servers, and multimedia storage.
You can have your storage servers installed with a file protocol of your choice to suit the networking or client PC requirements. Some features that make these solutions from whitehats a must-have are low-cost installation, easy administration, and faster data access.
Brands of NAS available in the UAE market
Data Storage Solution in Dubai, UAE
Auxkey IT solutions on-track engineers have experience with many different storage technologies. They can help you buy the right data storage for your business. Your IT infrastructure must be ready to handle today's pace of business and also because of the growing mountains of Data your organization produces annually. Our engineers have the highest level of certification possible from our partners, so you can be confident you're in good hands from implementation to validation testing to checks and strategic recommendations. Our in-house consulting methodology ensures a thorough understanding of your business so you get services accurately calibrated to your requirements.
Are You Looking for the Best IT Support in UAE?
Contact us now for a smooth and trouble-less experience.  If it seems that your organization needs IT support and other IT services. We are very much happy to assist in designing and implementing an awesome support plan for your organization.